AJW's Chris Hessler, Richard Corey, and Lynn Heller had the privilege to present about GHG monitoring and measurement at the 2023 Asian Pacific Economic Cooperation (APEC) First Senior Officials Meeting in Palm Springs, CA on February 18, 2023.
They contributed to the Standardization in Emerging Technologies Related to Greenhouse Gas (GHG) Emissions Measurement Workshop. The workshop brought together a diverse group of specialists who spoke about innovation in emissions measurement. The primary focus was GHG accounting and making it more reliable and interoperable for APEC economies.
"We can't monitor what we don't measure."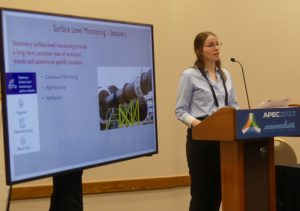 Chris and Lynn stressed the need for adequate GHG monitoring to inform standards and policies. They provided an overview of a range of GHG measuring and monitoring technologies and solutions, such as satellite remote sensing, aerial surveying, surface-level monitoring, and enabling technologies like blockchain and AI. They also emphasized the importance of monitoring GHGs and discussed the standards driving measurement technologies' use.
Measurement, Reporting and Verification: Corporate and Government
Khalil Gharbeih from Microsoft discussed The Carbon Call. This ClimateWorks Foundation-hosted initiative aims to improve the measurement, reporting, and verification of GHG emissions and removal for the corporate sector. The experts agreed that GHG emissions data is currently fragmented, lacks comparability, and needs to be actionable for policymakers. However, they also emphasized that by collaborating to increase data availability and measurement standards, economies can improve their domestic emissions inventories and work towards minimizing their impact on climate change.
In one of the sessions, Meng-Yun Kuo from the Office of Climate Change in Environmental Protection Administration (EPA) in Chinese Taipei and Ratchanan Sittikan from the Thai Industrial Standards Institute (TISI), Ministry of Industry spoke about their economies' experiences in adapting and applying GHG measurement best practices. Both economies are working towards improving GHG measurement and monitoring standards and are developing emissions reporting platforms.
Standards and Interoperability
In the day's final session, Richard Corey facilitated a session for economy and industry representatives to discuss the similarities and differences of standards and regulatory frameworks for GHG measurement technologies in their economies. The participants were divided into groups to brainstorm how APEC could further the interoperability of those standards. The groups identified the many obstacles and challenges their economies are facing to achieve their GHG measurement objectives, both technical and regulatory — and identified many opportunities for GHG monitoring and measurement technology.
The AJW team enjoyed and appreciated participating in this enlightening and collaborative event that brought together experts from various sectors and economies to discuss the challenges and opportunities surrounding GHG measurement and monitoring technologies. AJW works closely in this sector, along with our colleagues at ICAC (Institute for Clean Air Companies), which represents the suppliers of air pollution control technologies, measuring and monitoring systems, low-carbon solutions, and equipment and services in the U.S. and abroad. Contact us for any support we can provide.