The ultimate goal?
Decarbonizing transportation through a national Clean Fuel Standard (CFS).
Facilitated by Mary Solecki, Jessica Johnson Bennett, and Caitlin Clark, the DriveClean stakeholders are building awareness and advocating for a national Clean Fuel Standard (CFS) that would set a schedule for gradually reducing the emissions from transportation over time.
Focus on Emission Reductions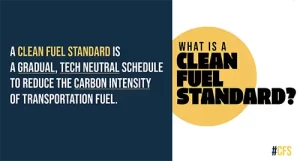 The proposed CFS encompasses technologies like low-carbon biofuels, hydrogen, and electrified vehicles, and allows eventual entry for new options that aren't in widespread use yet. The initiative allows different fuels to compete based on carbon content. This approach will help open markets to develop and scale new clean fuel choices that can be used in several transport applications like cars, trucks, planes, and ships – to tackle the entire transportation spectrum and its unique components.
Federal Standard Supports State Standards
Several states have been reaping the benefits of similar programs for years, with additional states now considering their own programs. This proves there is an identified need across the nation to tackle this massive issue. States or regions may implement clean fuel programs that are designed to steadily decarbonize transportation fuels and may increase the stringency of their program's targets. A national CFS would benefit all by providing a baseline and common framework to reduce complications for participants across state or regional lines.
Common Ground for Diverse Solutions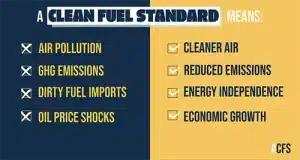 The wide range of stakeholders who have signed on for the DriveClean initiative might be considered "strange bedfellows" with divergent interests. The uniting factor, however, is the focus on emissions reductions in whatever form possible. That's why seeming opposites like biofuels supporters and electrification companies, engine innovators, and electric vehicle manufacturers are united behind a CFS that attacks the emissions reduction problem from all sides to advance gains faster. There is no question that the problem is complex and requires urgent attention from many directions.
Learn more about the DriveClean principles and mission here.
DriveClean Makes the News: